Health Connection Directory
Sources of Additional Information Found on the World Wide Web
The Health Connection: A Study of Productivity in the Workplace, by Paul Houchens
This web page is dedicated to my year long study of health and wellness and how it relates to better job performances and productivity. The study does not focus on how to live a healthy lifestyle or guidelines for exercise and nutrition, but rather how to implement wellness and health activites in the working environment. The saying, "Healthy employees are more productive employees," is often very true. And only because a person does not work for a certain company does not mean he or she cannot be affected by its workforce health. Big businesses spend millions of dollars on workers' health care, and the consumer often pays the price. If health care costs less, the consumer also benefits.

The Health Connection Directory is divided into several sections which will give the reader an introduction, definitions and statistics, history, and solution to the problem. The link to "Components and Degrees of Health" will provide the user with information about important terms in this study. The section called "Money, Disease, and Death" will provide the user with an idea of why changes need to be made to the current occupational health system. The section called "Regulations and Fads" will give the reader a sound base on health developments that have occured in the United States during the last 250 years. "What Will Work" addresses and describes a plan to turn a fictional company with severe health problems and high health costs into a productive and thriving company. The section titled "United They Stand, Divided They Fall" will make predictions about the future of wellness in the workplace. The appendix will feature "Journals," "Book Reports," "Creative Works," and "Methods of Research."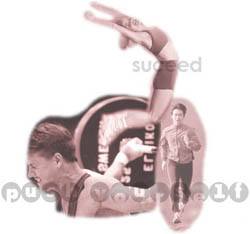 This page has been visited
times.